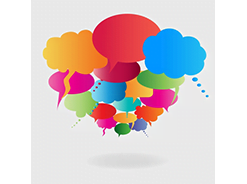 Social Selling
By Ron S. LaVine, MBA
Logan Nathan recently posted an article on LinkedIn about how selling should be done on social networks or social selling. It's an informative article that you might enjoy. You can read it here.
I responded to Logan's post with a few points of my own, which are included below.
Excellent article Logan. Very well written and in my opinion there are still two places where social selling can be augmented by other communication channels.

One place is in the area of using the phone to proactively call and educate specific decision-makers on how to solve problems they may face now or in the near future. The other place is the use of the phone to proactively call and educate these people when and where a new technology or better way of doing business is being introduced that may solve problems the decision-makers have never thought of before.

Because there is no guarantee the decision-maker(s) for a company-s solutions engage with social media (although it seems statistics are pointing to a very strong likelihood they are participating somewhere) or is a participant of the social media channels where a sales rep provides information, the need for outbound communication (e.g. phone prospecting) still exists.

Social Selling has enabled sales reps to more easily target where their prospects hang out (i.e. by studying the LinkedIn Groups where some of their decision-makers are members) and get their information to these people to help them make wiser, more informed decisions.

Successful social sellers take the social selling process a step further by engaging their prospects via multiple media channels including both inbound and outbound and not relying solely upon social selling to do the work. By providing useful, valuable content explaining how to solve decision-makers' problems, in the form of answering questions, as Logan has suggested, is in my opinion only one of the ways to educate decision-makers and people who influence decisions.

Sales reps must learn how to make Social Selling, Traditional Selling and Marketing work in concert if they are to reach their full potential. I'm all in favor of Social Selling but not at the expense of giving up or replacing traditional sales methods, which have been proven to still work too.

The biggest challenge I see for social sellers is to learn where the decision-makers are getting their information from and how they like it delivered – whether by phone, email, hard copy, or social media.

I'm not saying Logan or anyone else here is trying to say Social Selling is the only way to sell successfully today. Instead, I'm suggesting a sales rep not put all their eggs in the social selling basket.

There are still decision-makers who prefer not to get all their information off a computer screen. Keep making your targeted outbound calls. My suggestion would be for a shift to an 'informational' approach over the phone, rather than the typical 'salesy' approach that many reps continue to use. There are still plenty of decision-makers who prefer to interact with salespeople to get information before making a decision.

I-ve always found people don-t like to be sold. They like to buy. Our job is to help them buy the way they want to buy, which may not be the way we want to sell. We need to learn how to sell or communicate the way people want to buy or be communicated with.
REPRINT PERMISSION
Copyright Ron S. La Vine, Accelerate Your Sales Results, Inc. >-Live Cold Call Training that gets Results!
Reprint permission granted in part or whole with the following credit:
"Reprinted with permission from Ron LaVine-s Sales Ideas Report E-mail Newsletter (SIREN). To subscribe, visit–http://www.accelerateyoursalesresults.com–or send a message to ronlavine-@-AYSalesResults.com-with "ADD" in the subject line, or call 1-818-991-6487."
Subscribe to our free newsletter.