Making the Most of LinkedIn
Sometimes it's hard to find a reason to contact a connection without seeming like you're trying to 'sell' them.
Here are some strategies you can use to 'touch' every one of your first degree connections at least bi-annually, along with ways to get profile visitors and your company page followers to join your LinkedIn Network. I'm also including a sample Recommendation Request template, which has proven effective in generating LinkedIn Recommendations from connections.
Good Reasons to Get in Touch
Birthday – Send them a LinkedIn message to wish them a Happy Birthday.
Work Anniversary, Promotion, or New Job – Congratulate them on their milestone!
Being Mentioned in the News – Let them know you noticed, and tell them where you heard/read about it.
They Endorsed You – Did your connection just endorse you- Send them a message to thank them for it.
Here is a sample Email that I send out to my connections: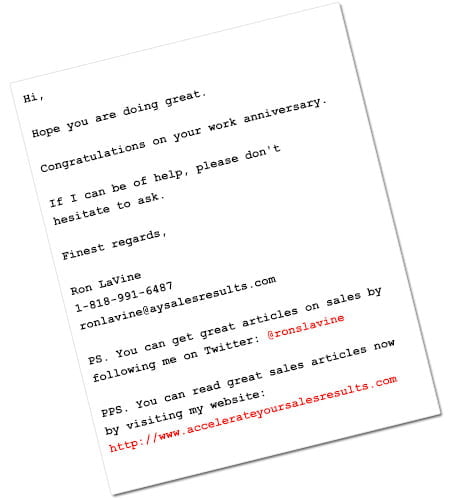 Remember to include your contact information in the message so they can get in touch with you easily!
Grow Your Network
If someone is following your company page, write and invite them to join your network. Did somebody new stop by and look at your profile- Send a quick message thanking them for visiting, and invite them, too. (And if they do join your network, remember to send them a quick message thanking them for doing so!)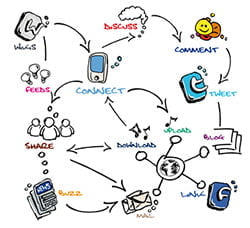 Request a Recommendation
Like endorsements, recommendations go a long way in building your reputation and client base. I have found that my LinkedIn client connections will often write a recommendation for me if I ask for one. I just send a quick note, as follows:
Dear Mary,

I know you're real busy and when you have a moment, maybe you can help me.

Would you please jot down a couple of sentences about what you thought about my workshops by finishing these two sentences or something like them-

I thought Ron's live phone prospecting training was…
I have been able to…

It would help my business a lot.

Thank you. I really appreciate it.

Sincerely,

Ron
It takes maybe 5 to 15 minutes per day to send out these emails. The inquiries, along with the thank you's I've received afterward, have made it a worthwhile social selling activity. Try it and let me know what you think.
Until the next issue…
Remember that what you think is what you attract. So choose to think the good thoughts!
Ron
Ron LaVine, MBA, President, Founder and Editor
Follow @ronslavine on Twitter
Forward the Sales Idea Report Email Newsletter to Your Associates
Please forward the Sales Idea Report Email Newsletter to your associates who may benefit from reading it, or have them send mail to ronlavine@aysalesresults.com with the word "subscribe" in the subject line, OR they can sign up online right now at accelerateyoursalesresults.com. They will thank you for thoughtfulness. We never send spam. Ever!
About the SIREN
The Sales Idea Report Email Newsletter is the official e-Zine of Accelerate Your Sales Results, Inc. a.k.a. AYSR, Inc. This publication is a hand-picked collection of the most interesting articles and ideas on sales and marketing. All selections in no way reflect my opinions or those of AYSR, Inc.
Give Me Your Feedback!
Send me your best articles, ideas, insults or just plain feedback. Either way, I'm listening: Click here.
Link shortening resource: https://bitly.com/
Our Contact Information
Accelerate Your Sales Results, Inc.
Live Cold Call Training that gets Results!
818-991-6487 Office //
818-519-3852 Mobile //
818-991-5938 Fax
mailto:ronlavine@aysalesresults.com // http://www.accelerateyoursalesresults.com
REPRINT PERMISSION
Copyright Ron S. La Vine, Accelerate Your Sales Results, Inc. >-Live Cold Call Training that gets Results!
Reprint permission granted in part or whole with the following credit:
"Reprinted with permission from Ron LaVine-s Sales Ideas Report E-mail Newsletter (SIREN). To subscribe, visit–http://www.accelerateyoursalesresults.com–or send a message to ronlavine-@-AYSalesResults.com-with "ADD" in the subject line, or call 1-818-991-6487."
Subscribe to our free newsletter.